Tracing Projector is a modern take on an invention from more than two hundred years ago!
Camera Lucida consists of a mirror or prism that you position above the drawing surface. The mirror or prism reflects the object you would like to draw so that your eye sees the object superimposed on your drawing surface.
Learn more about Camera Lucida.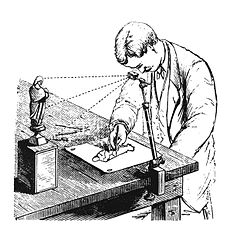 By Unknown - illustration from the Scientific American Supplement, January 11, 1879, Public Domain, Link